I have only recently started to make bags, unless you count the ones I made as a child that were, shall we say, less than successful??? Of course back then I didn't use patterns or linings, never mind interfacings! When I decided to give it a go I headed off to Google and searched 'free bag patterns'. I probably clicked several links before clicking on one of the links that claimed to have '15 free bag patterns' suitable for beginners. The Buttercup Bag grabbed my attention immediately. I mean look at it, it's gorgeous!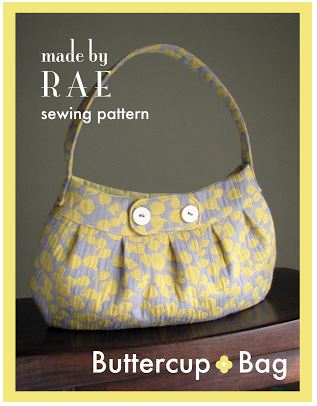 I subscribed to Rae's website to get my free Buttercup Bag pattern, it looked so pretty and relatively easy so I thought it would be a good starting point. I was right. The Pattern is emailed to you for download and prints out on A4 paper – just make sure to print in actual size without scaling.
Once printed you cut out the pattern and follow the well presented instructions on how to assemble your bag. The instructions include plenty of images too so you can refer to these as you go. Out of respect for the designer I am not showing any of the actual pattern here but you can easily visit her page and get a pattern of your own by subscribing.
I already had a selection of fabrics and I chose to use one that is a patchwork effect in a lightweight denim, and I was eager to try the pattern out and so I opted to make it in this rather than order something floral.
Going off piste.
One thing I am learning about bag making is that patterns are guides, and making adjustments or alterations is perfectly alright. Patterns can be make bigger or smaller, pocket added or removed and there are many different handle styles that can be substituted for each other.
In this instance I stayed pretty close to the pattern. I added an internal zip pocket because I think every bag needs a zip pocket, and I highly recommend the YouTube tutorial by Sara from Sew Sweetness, for how to insert this type of pocket into any bag.
I also used a fusible fleece so the bag was really soft and reversed the pleats on one side of the bag so they faced inwards and with the added fleece the central pleat was not required. I added piping between the two front pieces, which was an optional instruction and I swapped the fabric handle for a 1 meter piece of cotton webbing. I liked the contrast of the solid handle against the pattern of the bag.
I have a few ideas for other changes too, and experiment with different handle styles as well as adding more compartments to the linings and a clip to attach your keys to.
My finished Buttercup Bag.
The Buttercup Bag – Overall Opinion.
This really is a great pattern for beginners. I highly recommend it and I will make it again – I have had a few requests already and I am looking forward to sharing images of these in my gallery.
Thanks for reading,
♥ Melanie Jayne ♥
More pattern reviews coming soon….